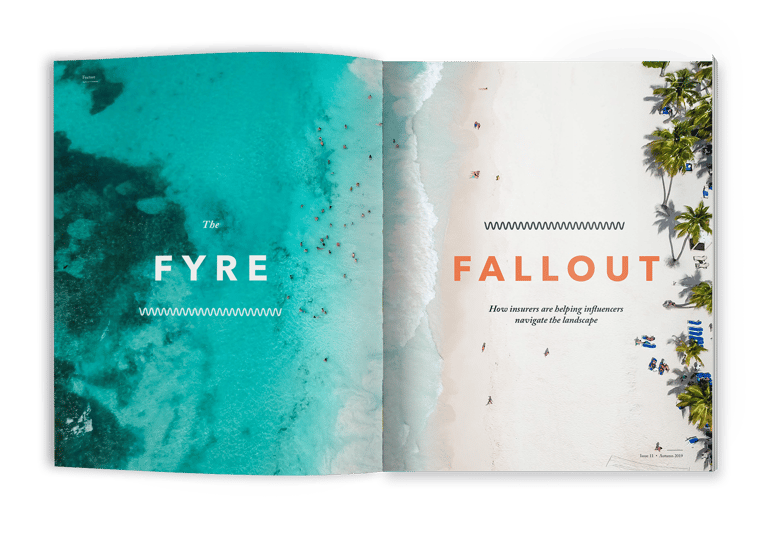 The Fyre Fallout
Issue 11 - Fall 2019
The Advertising Standards Authority of Ireland published a report earlier this year of record breaking figures for complaints pertaining to social media influencers. With increasing calls for regulation in this space and brands' ad spend spiralling upwards in this space, we take a look at how insurers are helping 'influencers' to help them help themselves, as the eyes (and arms) of regulatory bodies start to focus in.
When you were ticking off your festival checklist ahead of this summer's big gigs – wellies, water bottle, sunscreen… – you probably never took a second to reassure yourself that (armed with your regular travel insurance, obvs), your worst case scenario at Ireland's established outdoor extravaganzas was probably a washout or a damp squib performance from your favourite act.
It would certainly have been nothing on the scale of the notorious Fyre Festival, which in case you missed that particular media storm, was a massively hyped luxury music festival that failed to ignite in 2017 on the Bahamian island of Great Exuma.
There's no smoke without …
Founded by Billy McFarland (now serving six years for fraud) and rapper, Ja Rule, the event was plugged on Instagram by 'social media influencers' such as Kendall Jenner – and many of its glamorous champions neglected to declare that their posts were paid-for advertisements. Not even something that two years ago seemed to bother us or that we would even think about.
"there was no cancellation insurance; security, accommodation, medical services, pretty much every aspect of the logistics was lacking, if in existence at all."
What greeted would-be revellers on Fyre's opening weekend though did not live up to the #luxurylife billing its promoters had pushed. Preparations had been woeful, there was no cancellation insurance; security, accommodation, medical services, pretty much every aspect of the logistics was lacking, if in existence at all.
People who had paid up to $100,000 dollars to attend found themselves stranded on an island, luggage lost, fed on pre-packed sandwiches, housed in disaster-relief tents, no beer at the bar and no music on stage. Worse was the exploitation of islanders and their home – with 200 local labourers left unpaid.
For McFarland the enterprise was utterly unscrupulous – the extent of his con is quite a tale. (See Netflix documentary, FYRE: The Greatest Party That Never Happened, for more mucky detail!) As for the Insta stars selling a fake dream – whether they were vain, greedy and negligent; or innocent victims of a great deception – the event represented a nadir in the reputational standing of the influencer trade. Some 100 influencers are still being sued for negligent misrepresentation over their involvement.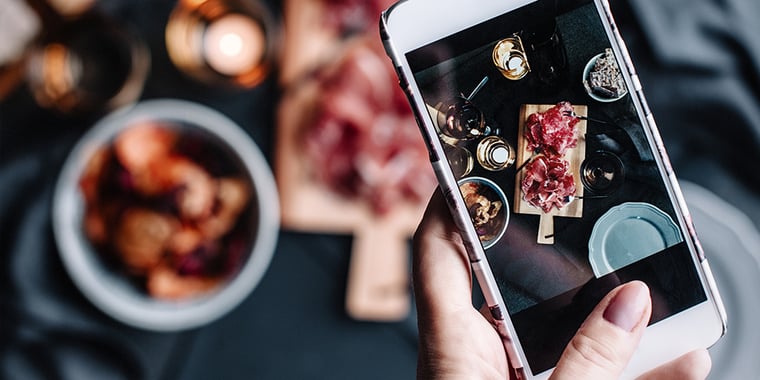 Time for change
Of course, at the other side of a low-point, you can at least expect a recovery – that's definitely in train, and there has been plenty of learning.
There has been a strong move towards the 'authentic' – 2019 is less about 'influencers' than it is about 'digital creators' who have a niche and passion. More substance is being sought – and accountability and this drive is coming from consumers, not necessarily the regulators themselves. Regulations are tightening though across the globe as regards clear disclosure of paid-for content – leave off the #ad #spon (sponsored) at your peril.
In Ireland, there isn't massive legal muscle behind that peril – but the cost of looking as though you're duping loyal followers is that you lose them and thus your livelihood. The Advertising Standards Authority of Ireland (ASAI) however can name and shame and force an advert to be withdrawn. In recent times it has upheld complaints against influencers Rosie Connolly and Grace Mongey for misleading posts, and it has not ruled out collaboration with the Competition and Consumer Protection Commission (CCPC) to crack down on failure to identify paid for content online. It's becoming a much more closely monitored sphere in which an influencer's misstep could echo around the internet for aeons.
"It takes years to build a reputation but only moments to protect it."
Not all influencers are equal
In that context, it's little wonder insurers have identified a demand for specialist cover. Most influencers although now regard themselves as business people, don't come from a business background and therefore tend to learn the hard way about best practices. Add into this mix that the realm in which they operate is relatively new and the opportunity for something to go wrong is intensified.
The first package to come to market here is from Hiscox, who advertise their Influencer and Public Figure Protection with the maxim: "It takes years to build a reputation but only moments to protect it." Launched in 2018, the product pitches itself at managers of a range of individuals from micro influencers with 10,000 followers to footballers with huge sponsorship deals. The insurer points up potential pitfalls such as posting an image without permission and breach of contract arising from an off-the-cuff negative remark about a sponsor's product.
The policy covers defamation, intellectual property infringement, breach of confidentiality, breach of licence, negligence, breach of advertising statutes and codes, and full civil liability. The sales information cites additional benefits including protection from claims arising from unauthorised access to the policy holder's social media.
The negative events insured are all reasonable fears for influencers, so it could be argued that covering them off makes sound business sense. On the other hand, if a person is serious about their work, surely they are mitigating these risks through good business practice and by exercising some good old-fashioned cop on?