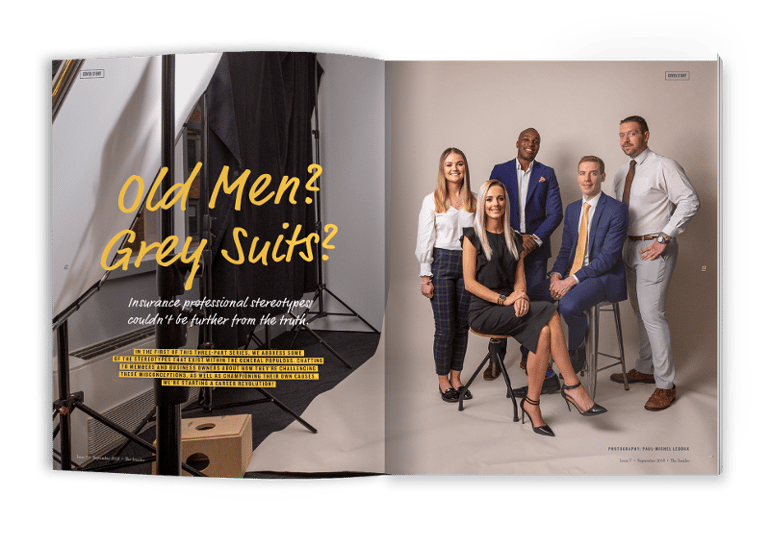 Old Men? Grey Suits?
Issue 7 - Fall 2018
In the first of this three-part series, we address some of the stereotypes that exist within the general populous. Chatting to members and business owners about how they're challenging these misconceptions, as well as championing their own causes. We're starting a career revolution!
The insurance industry has a problem. It's not seen as 'cool' enough.
Today's future workforce seem to have very little interest in working in the sector. Many believe that insurance businesses have little career opportunities, are un-progressive and only care about making money.
Unlike a lot of industries, insurance gets a rough time of it in the media. The labels 'cowboys', 'cartels' and 'crooks' are thrown around like confetti, when the focus should be on the protective and safe-guarding products and services that this sector provides.
This 'quiet crisis' has been around for some time.
Highlighted in many surveys and opinion pieces over the last 20 years, in Ireland and the UK. However, tackling it is a shared responsibility between the employers and the employed. Particularly the younger, newer entrants. We must collectively address the misconceptions and highlight the career paths and benefits on offer, within this diverse and exciting sector.
Let's hear what our cover stars have to say.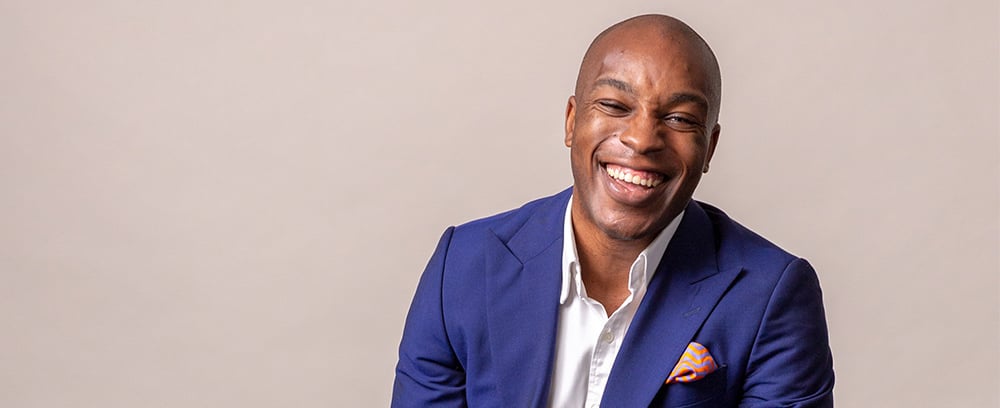 Hesus Inoma
ACII Chartered Insurer
Founder and CEO of wesavvy
Technology and entrepreneurship have been highlighted as career options of choice. We chat to Insider regular and fintech Founder and CEO of wesavvy, Hesus Inoma, about how he got started;
How did you get started in the insurance industry?
My interest in insurance started as a student at the University of Limerick. I obtained a BA Honours Degree in International Insurance and European Studies in 2008 and after graduating, I completed a Post-Grad. In Financial Services with University College Dublin and The Institute of Banking. I went on to achieve the industry benchmark qualifications of Chartered Insurer, Chartered Banker and Qualified Financial Advisor.
Where did you get the idea for wesavvy?
In 2012 I was overweight and my New Year's resolution was to become healthier. I unleashed the power of my community of friends and with their help, I achieved my goal. We competed in 5km races and motivated each other to eat healthier and work out more. This certainly appealed to my competitive nature and helped me stay motivated. However, despite all of my hard work, my health insurance premium increased in 2014 and there was no way for me to communicate my journey effectively to my Insurer, and be rewarded for my efforts. Spurred on by this experience, I began building the wesavvy mobile application and platform that would grant Insurers the ability to personalise their quotes and empower Policyholders to gain back control of their insurance premium.
Shane Hennelly
BSS FCII Chartered Insurance Broker
Joint Managing Director, Thompson Insurances
When attending careers fairs and promoting insurance to those outside of the industry, we get a lot of feedback. Comments such as Insurance is an 'old boys' club and It's all "old men, in grey suits", get used a lot. Shane Hennelly certainly doesn't fit that mould. AS JOINT MD of Thompson Insurances, we hear about his journey and what he feels is lacking in the market.
How did you get to where you are today?
I suspect not following all my pals to college in Galway after the Leaving Certificate in 2002 may have been a pivotal moment in my career! Instead I headed to Dublin, threw myself into a Social Science degree in UCD, and during the 2004 /2005 term was successfully elected as Welfare Vice-President of the Students Union. This full-time sabbatical role involved sitting on various committees' and maintaining a full-time office to receive students with real problems. It was certainly an eye-opening experience and helped ensure my first 'formal' meetings in the insurance world were not so daunting. Following graduation in May 2006, I decided to travel for a year. A cousin of mine owns an insurance brokerage in Sydney and during my short time there, he advised me to seriously consider insurance as a career. He was very persuasive in his view, so when I returned to Ireland in 2007 and interviewed with Norman Thompson, I was eager to impress. It was a casual chat more than an interview but similar to my cousin, Norman was engaging and passionate about insurance and I made up my mind there and then that Thompson Insurances was the place for me. Over the past 11 years, my roles and responsibilities within the company have evolved from managing a book of SME clients, to heading up our Business Development team, to joining the Board of Directors and then most recently (in 2016), to my appointment as Joint Managing Director.
"Success doesn't come from within; it's given to you by other people."
What were the 3 biggest things you learned during your first year as MD?
1. The difference between working on the business versus working in the business. It is easy to get caught up in the little things and lose sight of the wider strategic goals. An MD needs to devote time to bigger picture thinking and steering the ship in the right direction.
2. "Success doesn't come from within; it's given to you by other people". The staff at Thompson Insurances, our clients and business partners are key to our success and our strategic focus must always recognise this.
3. You have to let go of legacy responsibilities when you become an MD or you will struggle. This creates a great opportunity to empower other colleagues so that they can further develop. I was very fortunate to be given these types of opportunities over the years and grabbed them with both hands.
What advice would you give to first time mds or people considering going for an MD role?
Clear communication is vital. If you aspire to this type of role (and keeping in mind it is not for everyone), speak to trusted colleagues and associates about the role and ensure you have a clear understanding of what is involved – warts and all! Recognise that you will be stepping out of your comfort zone and will need guidance. Don't be afraid to seek it.
As an employer, are you finding any skills gaps in the market?
Lack of diversity is a big problem in our market and gender diversity particularly. Female graduates represent a significant talent pool that our market is not attracting. Female workers already in the market also represent a major talent pool that our market is not promoting to senior management levels in anything like the numbers it should be. High calibre new graduates are difficult to find, but initiatives like the Insurance Apprenticeship are beginning to change this. However, other initiatives such as formal leadership training could also help. I feel it would lead to better performing businesses and also the retention of high-quality candidates for senior promotion opportunities which could reduce expensive talent acquisition costs.
What's next for you?
I firmly believe that pursuing and promoting continuous professional development and lifelong learning is one of the key ingredients to a fulfilling career and indeed, a fulfilling life. I was elected a Fellow of The Chartered Insurance Institute in January of this year which was a long-term education goal of mine. I will continue to focus on driving Thompson Insurances forward with a particular emphasis on mentoring our excellent workforce. In a nut shell, I will continue to work hard and be nice to people.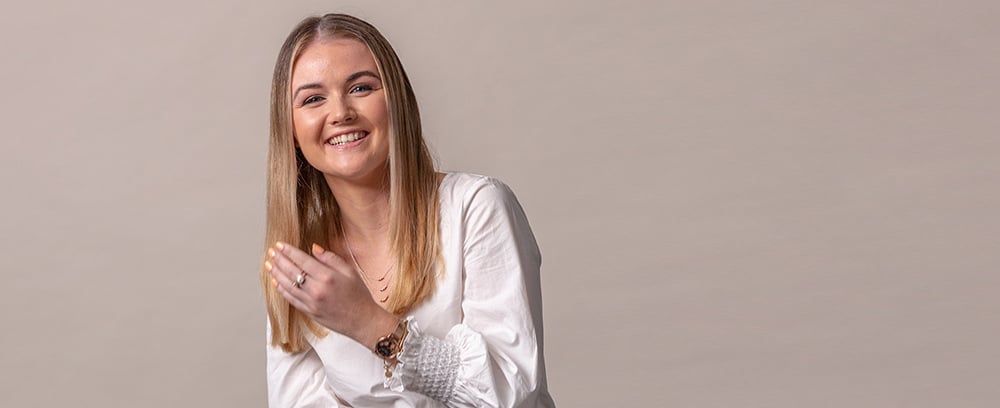 Niamh Mehigan
Data Analyst, Aon Centre for Innovation & Analytics
Just like insurance, data analytics is considered by some to be a 'male' domain. However, Niamh Mehigan, certainly doesn't subscribe to this stereotype. Part of a large reporting team at the Aon Data Centre in Dublin, she tells us why she feels insurance is definitely not un-progressive and is about more than just claims.
How did you get into the job you are currently in?
I studied Financial Maths at the University of Limerick. During my third year, it is compulsory that every student has an 8-month work placement in their desired field. Generally, the university finds the placement for the student but there are limited opportunities for Maths students especially in analytics. I heard about the Aon Centre for Innovation and Analytics (ACIA) through a family friend and applied for the 8-month work placement. Towards the end of my internship I was delighted to be offered a full-time permanent position once I had graduated. I am currently working as a data analyst for the Reporting Services team and have been for nearly a year.
What does a data analyst do?
As a data analyst, my day to day routine would be working on ad-hoc analytics for colleagues. This includes collecting, analysing and presenting the data in order to provide insights for clients and insurers to make well-informed business decisions. I work on a team with 14 other highly skilled data analysts, and we all have varied skillsets including, R, SQL, Python, Tableau, Alteryx, Excel and industry knowledge.
How did you feel about insurance as a career option before you started working with Aon?
To be honest it wasn't something I had previously considered. However, after starting with Aon, it has opened my eyes to how innovative and fast paced the insurance industry can be. It is a such a vast field and I am currently studying for the first set of APA exams to expand my knowledge, so I can progress further in the industry.
What is it about your job that excites you?
I love problem solving, deep diving into the data to discover trends and discovering interesting perspectives on the information. I enjoy my job as I love a challenge and some days can be more challenging than others, which helps me learn and improve. The ACIA has valuable and rich data which enables me as a data analyst to perform at my best.
Tell us about an exciting project you have worked on?
I was recently asked to help with a high priority request to assist a number of our C-suite executives for an upcoming senior leadership meeting around strategy. As the request required granular level detail that we would typically not have at our disposal, I needed to consolidate data from multiple disparate sources to create a holistic view of the Aon world. The challenge here was to ensure consistency concerning mappings and of course data validation was a key focus. This project was exciting as it was different and helped me improve my skill set and expand my knowledge even further.
What are your main digital and data related challenges?
I think one of the biggest challenges for global companies such as Aon, is moving away from the historical way of representing and analysing data with Excel. We have replaced Excel-based analytics to support business users with Code-free analytic and BI visualisation tools such as Tableau, Alteryx and Jaspersoft. Technology is such a big part of the industry nowadays, so it is essential that we keep up and provide new and exciting ways to analyse and represent the data.
"From my perspective, data will become the key contributor of insurance decision making and the role of data analyst will evolve with it."
What role do you believe data plays within insurance now and how do you see it furthering decisions in the future?
I think that data plays a vital role. The more accessible and intuitive the data is, the easier it becomes for stakeholders to trust and rely on it for decision-making. Data analytics is fundamental in the growth of our clients and is crucial for our own ability to assess risk. From my perspective, data will become the key contributor of insurance decision making and the role of data analyst will evolve with it.
If you could change one thing about how data is used within the market, what would it be?
Aligning the data to the business requirements is vital. The analysis we currently produce would benefit from more input from the business which would lead to improvement in future models. Therefore, I believe working closer with the business would be mutually beneficial. At the ACIA we work in an agile environment, which is brilliant. This impacts how the data is used and how we improve on the management of blockers, which is important to any business.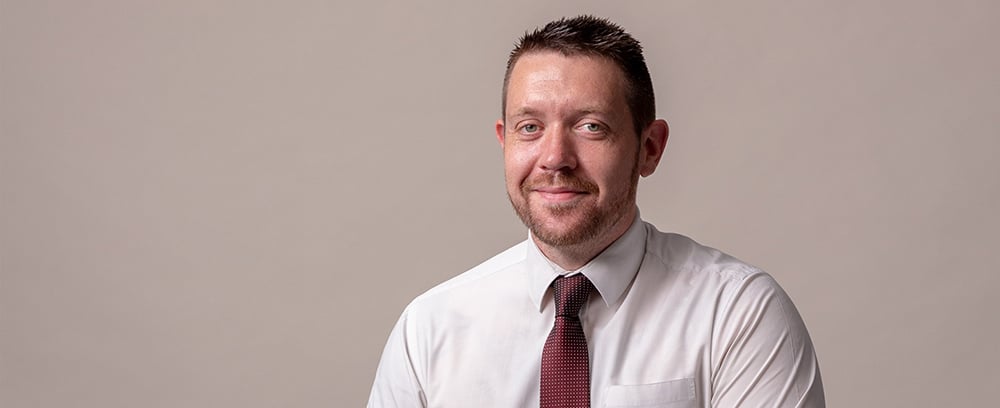 Paddy Power
Wright Insurance Brokers
Paddy Power, Wright Insurance Brokers, was one of our first ever apprentices and is a great advocate for the scheme. We hear why he feels that everyone should think about insurance as a career and how it's completely different to what people think it is.
What were you doing before you got your apprenticeship?
I was working in hospitality and had been for 15 years. I was good at it and enjoyed it. But after I got married and we had our first child, the 12-hour shifts and weekend work began to take their toll. I knew it was time to change and I felt that the apprenticeship gave me the perfect opportunity to have a job that would be more structured and allow me to spend time with my family.
What attracted you to the apprenticeship?
When I saw the role advertised, the first thing that struck me was that it said no experience necessary, but they wanted someone with people skills, which was perfect for me. As a career changer, I accepted that I'd have to take a drop in salary, but the fact it was an 'earn-as-you-learn' programme, leading to a BA (Hons) degree in Insurance Practice after three years, I knew that this was for me!
What are the main benefits of doing this apprenticeship for you?
I'm getting on-the-job experience combined with college tuition, and with the 9-to-5 structure, I can actually plan family activities four to five weeks in advance, something I couldn't consider in my last job.
The great thing though for me is that I know, in the long term, when I get my degree, i'll earn at least the same as I did working all the hours in hospitality, if not more.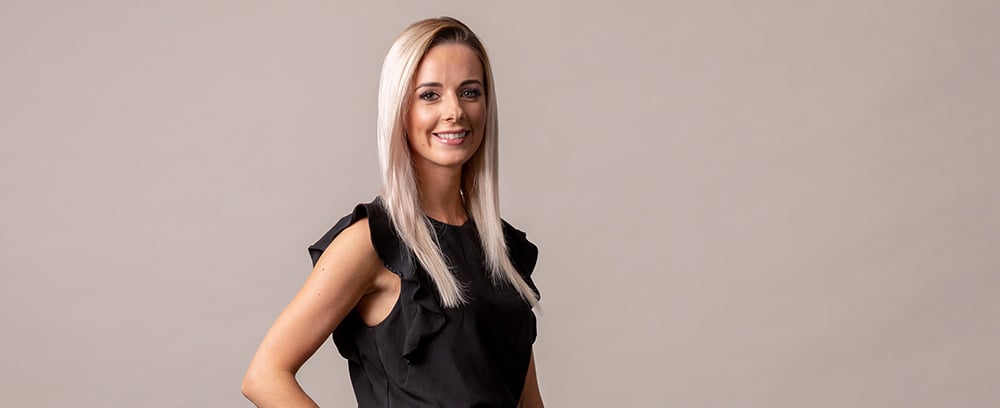 Melanie MacDonald
LLB, ACII, Relationship Manager, Campion Insurance
In an industry that is all about PEOPLE, many newer entrants feel that their communications skills are good. EMPLOYERS HOWEVER don't seem to agree. Having spent most of their teenage years communicating via mobile devices, Melanie MacDonald, ACII, from Campions Insurance, is helping to find a way of bringing them out of their digital shells with her NxGen initiative and gradually re-learn the fine art of talking.
Why did you start NxGen?
I feel it is important to provide a platform for newer, perhaps less experienced entrants in our industry to develop personally and professionally.
Why is networking so important to the insurance sector?
Insurance is all about people. It's an industry where a lot of our meetings are still done face to face. Therefore it is essential that newer entrants develop the interpersonal skills and business network as early as they can in their career to set them up for the future.
How can people get involved in NxGen?
The initiative launched with the backing of The Insurance Institute and the Dublin council earlier this year. We are currently looking into the next event, but in the meantime, people can join our linkedin group via The Insurance Institute's main LinkedIn page.